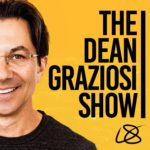 Do you want to go faster? If you're listening to this, I bet to say the answer is YES! 
That's why I'm sharing my top 3 tips for creating unstoppable momentum in life or in business. 
These are the 3 things I've personally used to get to where I am today, and I know they can help you get to your next level quicker than you ever thought possible.
Listen NOW to learn exactly what to do to maximize your time, growth and potential!! 
*** Want to text me personally? Shoot me a message HERE → 480-400-9019***