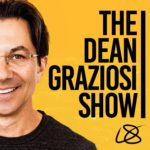 Have you ever wanted to ask me a question? Had ONE thing that you really wanted to know??
Today, for my very special 500th episode, I'm answering your top 5 questions, submitted on my Instagram @deangraziosi by listeners like you.
We picked the FIVE questions that matter most… what we know are the most pressing questions to answer about growth, success, and leveling up your life.
You are such a blessing to me – thank you for being here! Listen NOW to learn all my secrets.