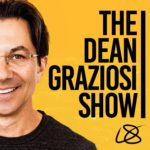 Do you NOT take opportunities because you're scared of the outcome?
What if you made a decision to do something for YOU.
To reach for next-level success while making a massive impact.
This is your chance to live with NO regrets…
Listen NOW to learn how to make this your reality.
P.S. I teamed up with Tony Robbins & 15 leaders for the Own Your Future Challenge starting May 11 to share our secrets for starting a thriving business in today's new world…
Save your free seat now! -> https://ownyourfuturechallenge.com/freechallenge?source=social&a=88889