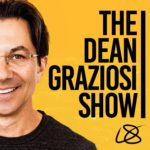 I call it "flow state" – the time I spend working on things that move the needle.
When I'm in flow state, I can get 4 days worth of work done in 4 hours… and it's because I'm working on things that MATTER!
So I'll teach you in this podcast how to stop running full speed on a treadmill, tiring yourself out but going nowhere… and how to treat your life like a ladder instead that takes you to your next level!