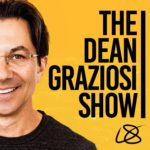 Listen, I had so many people tell me that I COULDN'T.
I barely finished high school. I didn't have a bunch of crazy advantages like some people think.
My guidance counselor told me I was perfect for one thing: Factory work.
My editor told me my first book (a NY Times bestseller) was basically unpublishable.
But you know what? I didn't listen…
Listen NOW to find out why… and the actions you should take to live YOUR life… not the life other people THINK you are capable of.