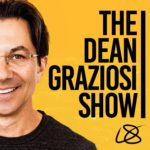 Are you an underdog? Do you have a disadvantage? Maybe you think yes, maybe you think no. And maybe your perspective is about to be challenged…
Today I'm talking about the advantages of being an underdog and why it's your secret weapon – and why you may actually have access to the underdog advantage even if you think you don't.
Listen NOW to discover how!!!
Get my book THE UNDERDOG ADVANTAGE to learn more: https://www.deansbook.com/uda-ordering?utm_source=udapodcast