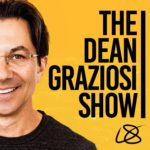 I want to share a secret about life with you today that would have changed my life if somebody told me this years ago…
Let me start with a simple question…
What's your favorite food?
If it's not something sweet or unhealthy then good for you…
but I know for me I love the taste of Coke and McDonald's…
On the surface it seems easy for us to grab fast food or skip a workout. Heck maybe it seems easier for us to settle in a relationship that isn't right, or to avoid conflict with someone we love…
What life tells us is the hard way… whether its eating healthy or being honest with your spouse or pursuing that dream job that feels risky… is ACTUALLY the EASY WAY!
Let me explain…
Wouldn't you rather have a relationship full of love and passion and connection? Wouldn't you like to live a long and healthy life and not have to leave your family early because you didn't take care of yourself??
The things that life tells us are "the hard way" are actually the gateway to fulfillment, to health, to love, to success…
You're in on the secret now but I haven't shared even the half of it…
So listen up and let me know what you think about todays video!