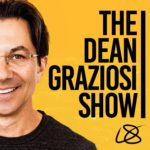 What's the difference between energy and enthusiasm?
And how does that affect your life, your abundance, your income and your success?
So many times people have said to me "God, I wish I was born with YOUR energy…", and I've found ways over the years to hack my thoughts and become more energetic and enthusiastic every single day!
Here's how…
Subscribe to the Millionaire Success Habits podcast so you can receive exclusive discounts and offers only available to my podcast family 👉 http://subscribetodean.com