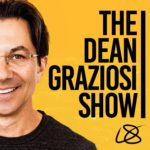 You may look at some things in your life and feel like they are disadvantages. For me, I wasn't the best at school because I am dyslexic.
But I learned pretty early in life that it's not what you can't do that matters… it's what you CAN.
You want to achieve success? To reach your goals? Then there's ONE thing you've got to do.
Listen NOW to find out how to tell yourself a more empowering story and flip the switch on your life direction.