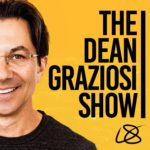 How To Get 4x More Work Done In HALF The Time
The #1 mistake I see budding entrepreneurs make is they keep spinning their wheels with "busy" work.
This can lead to years of frustration and no progress.
In this podcast, I'll reveal the 3 steps to entering a "flow" state when you work.
So you can get 4x more done in half the time.
And start doing work that actually moves the needle of your business forward.
–
To get exclusive discounts and benefits only available to my podcast family. Subscribe today 👉 http://subscribetodean.com