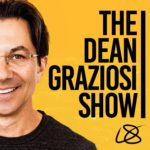 I want to talk to you about TODAY. I talk to people all the time who are focused on TOMORROW a little too much.
Now, that can be good. Or it can be really problematic for your mindset.
Listen NOW to hear my strategy for making the most of every moment.
And don't forget to get my free book here! https://www.deansbook.com/uda-ordering?sl=dgpbook