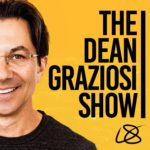 With only a few months left to the new year, I want to ask you…
How has your progress been? How has 2018 been in your life?
Here's what I want you to think about this episode, how can you start now so you're not like everyone else creating New Years Resolutions on January 1st…
Why don't we prep right now?
So here's a quick little exercise I want you to do as you follow along…
Love,
Dean
Subscribe to the Millionaire Success Habits podcast so you can receive exclusive discounts and offers only available to my podcast family 👉 http://subscribetodean.com