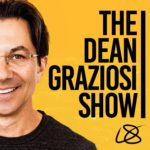 Today, I'm sharing my best tips on communication. I didn't learn these from a seminar… my kids taught me how to talk to people! 
I'm sharing lots of family stories in this episode…
Listen NOW to learn how you can approach conversations and solve problems more effectively in everyday life!
For more success tips, grab my FREE Fast Track To Success Bundle here: https://dg.deangraziosi.com/habits4success?utm_source=atm1podcast