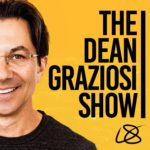 I've got ADD, I'm crazy busy running multiple companies and I'm terrible with grammar…
Yet I've still been able to write some of the most impactful and bestselling books of the last 20 years.
In this special podcast training, you'll learn the blueprint for writing, selling, and marketing a book – the same skills you can use to crush a presentation or earn that raise at your job.
Listen now and let us know what you think!