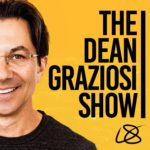 What if you were already good enough?
What if you were built exactly the way you were supposed to?
What if today you realized you're perfect to start or scale your business?
This week I read a book that spoke to me and I want to share how you can become all you need right now…
To get to where you've always wanted to be.
Subscribe to the Millionaire Success Habits podcast so you can receive exclusive discounts and offers only available to my podcast family 👉 http://subscribetodean.com