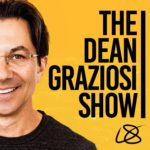 Do you have a favorite t-shirt?
Listen to the end of this episode to get 20% off the only brand I ever wear…
Everybody loves an underdog… and today I'm doing something different: I have a guest!
Entrepreneur Chris Molnar, founder of Goodlife is here to share how he knew when to leave corporate America and work for himself… how he overcame the fear of failure… and much more.
Listen NOW to find out how you can do same… and get a sweet deal with the code DEAN: https://goodlifeclothing.com/pages/dean