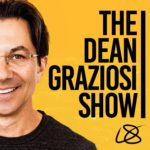 If you ever want to start a business, run a business, scale a business, make an impact on the world… you better know how to sell.
Was Mother Teresa a saleswomen?
Was Martin Luther king a salesman?
You bet your ass they were 😉
So today, I want to talk about the difference between an emotional buyer and logical buyer, and the #1 reason WHY people don't buy what you're selling.
Subscribe to the Millionaire Success Habits podcast so you can receive exclusive discounts and offers only available to my podcast family 👉 http://subscribetodean.com