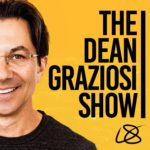 Here's a scary stat: Only 27% of people who get a degree actually use it.
I mean, listen… This is an unprecedented time of uncertainty when even a degree you worked hard to earn doesn't protect you…
So, what if I told you that you could create strength and certainty even in times like these??
Tony Robbins and I have had an incredible impact on people just like you by showing them how to level up. Listen to my podcast TODAY or go to www.DeanandTony.com and we will show YOU how, too!