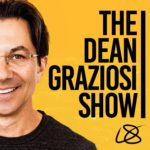 Do you always know exactly what you want and where you're going??
People always assume people like me have ALWAYS had it together.
But my big secret? I haven't 😉
Sometimes… it's about knowing where you DON'T want to end up.
I'm talking with my friend and fellow entrepreneur David Meltzer on THE PLAYBOOK podcast about just that in this interview…
Listen NOW to find out how to move past imposter syndrome, overcome fear and remove your limitations.