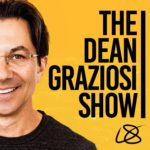 I am going to share the biggest lesson my dear friend Tony Robbins taught me.
This is maybe my most personal podcast ever…
I got real, raw, down and dirty about my own past, my relationship with my dad and how one sentence from my good friend Tony Robbins changed everything for me.
This is a message that I truly believe will inspire you no matter where you are in life…
So listen now for a vulnerable, personal story that could entirely shift how you view your own life!