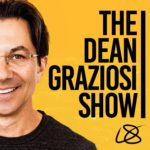 People always say "bigger is better"… I would say that isn't always true!!
Because the #1 marketing strategy I use has proved that myth wrong time and time again…
Listen NOW to learn why and when SMALLER is better and exactly how to niche down your audience… going from marketing to millions to marketing to your dream customer. 
The ability to impact and serve grows MASSIVELY when you learn this one thing.
Also, if you haven't already, Join the Own Your Future Challenge now!
-> https://ownyourfuturechallenge.com/freechallenge?source=social&a=88889