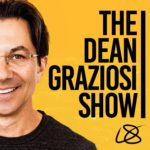 Today I want to ask you a question: Are you moving the needle in your life or are you getting stuck on a bunch of things that don't matter?
Because if you let the little things get you stuck or get you down… I've got some tough love for you today…
Listen now for a reality check that I know some of you need right now!!
Also be sure to check out my book on how to live your life just like the most successful people in the world now: https://www.deansbook.com/msh?utm_source=mshsocial