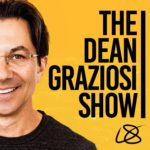 In today's podcast, I share an intimate coaching moment that I know will touch your heart…
Listen to this story of one woman whose inner critic was crushing her and the life-changing moment that awakened her inner hero and revealed her true value… just as she was.
I know this message is one you need to hear, to inspire you but also to take with you if you've ever doubted yourself or your worth.
Because believe me… believe HER… you are who you are for a reason. And that's a blessing.
Make sure you join the Last Day of The Own Your Future Challenge -> https://ownyourfuturechallenge.com/freechallenge?source=social&a=88889